I found that the mesh increase in Codea 4 supports a lot of file types, so I tried gltf. However, in this routine there is only a simple load and no animation, because I know very little about gltf. hopefully @John will provide some sample code, such as to get the roles moving.
These gltf are from the app: Anima Toon, it is very easy to control the character`s actions.
The code is very short, However, I suggest you download the project file, because it includes the GLTF file.
function setup()

    -- 使用基本场景的默认镜头
    scn = scene.default3d()
    scn.sky = nil
    -- scn.camera.farPlane =5000
    
    cam = scn.camera:get(camera)
    cam.farPlane = 50000
    print("cam: ", cam.farPlane)
    
    -- create a sun entity and add a directional light to it
    sunEntity = scn:entity("sun")
    sun = sunEntity:add(light.directional(vec3(-1,-1,-1)))
    sun.color = color(233, 150, 80)
    -- sun.clearColor = color(233, 150, 80)
    sun.intensity = 0.05   
    -- sun.direction =vec3(-100,-100,-100)
    sun.castShadows = false
    
    rig = scn.camera:add(camera.rigs.orbit)
    rig.distance = 50
    rig.angles.x = 25    
    rig.angles.y = 75
    
    -- 用于地面:新建 material.lit() 会自动打开 阴影,如何关闭? 
    checkers = material.lit()
    checkers.map = image.read(asset.builtin.Blocks.Brick_Grey)
    checkers.color = color(243, 243, 242)
    checkers.scaleOffset = vec4(0.125, 0.125, 0.0, 0.0)
    checkers.roughness = 0.5
    
    -- 地面
    ground = scn:entity("ground")
    ground:add(mesh.box(50, 0.1, 50))
    ground.y = -0.05
    ground.material = checkers

        
    robot = scn:entity("robot")    
    robot:add(mesh.read(asset.builtin.Blocky_Characters.Robot))
    robot.scale = vec3(.5,.5,.5)
    robot.position = vec3(10,0,-10)
    robot.material = checkers
    
    -- load Run.gltf (1 action)
    myChar = scn:entity("myChar")    
    myChar:add(mesh.read(asset.run))
    -- myChar.material = checkers
    myChar.position = vec3(0,0.5,0)    
    
    for k,v in pairs(myChar.mesh.animations) do 
        print(k,v)
    end
    
    -- load DogWalk.gltf (1 action)
    myPet = scn:entity("myPet")    
    myPet:add(mesh.read(asset.DogWalk))
    -- myPet.material = checkers
    myPet.position = vec3(0,0.5,-10)
    
    -- load DogWalk.gltf (3 actions)
    myPet1 = scn:entity("myPet1")    
    myPet1:add(mesh.read(asset.ExportDog))
    -- myPet.material = checkers
    myPet1.position = vec3(-5,0.6,-12)
    
    scene.main = scn
end

-- This function gets called once every frame
function draw()
    -- This sets a dark background color 
    background(40, 40, 50)
    rig.angles.y = time.elapsed*30
end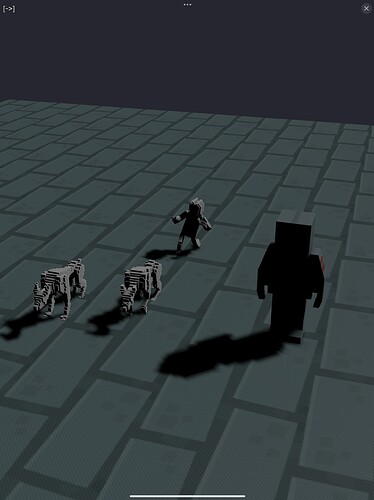 C4AnimationGltf.zip (404.7 KB)
The demo video:
The original animation: