Hi everyone,
The new Codea Air Code is now available in beta as of version 3.8 (376).
If you don't have Visual Studio Code already, you can download it from Download Visual Studio Code - Mac, Linux, Windows.
Once installed, run it, look for Codea Air Code under the Extensions sidebar, and install the extension: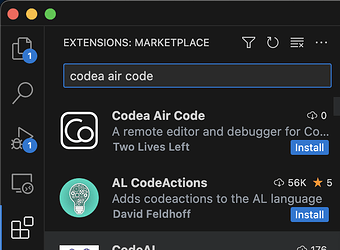 You should then be able to connect remotely to a device running Codea 3.8 (376) using the "Codea: Connect to Host…" command.
Please refer to Codea Air Code | codea-air-code for the usage instructions.
If you try it out, please let us know how it goes here or in our Discord channel.
Thank you!