Updated: 25th Feb 2023
New projects and updates will be announced automatically in this thread.
---
The WebRepo project allows you to browse projects stored on the community repository, download, update and submit your own projects directly from the WebRepo project.
All projects downloaded are made available for editing like every other project in Codea. Note that local changes will be erased when the project is updated using WebRepo so I suggest renaming it if you plan to make modifications.
The powerful search functionality allows you to search project names, descriptions & authors to find the project you're looking for.
Functions on both iPad & iPhone and will scale with available screen space.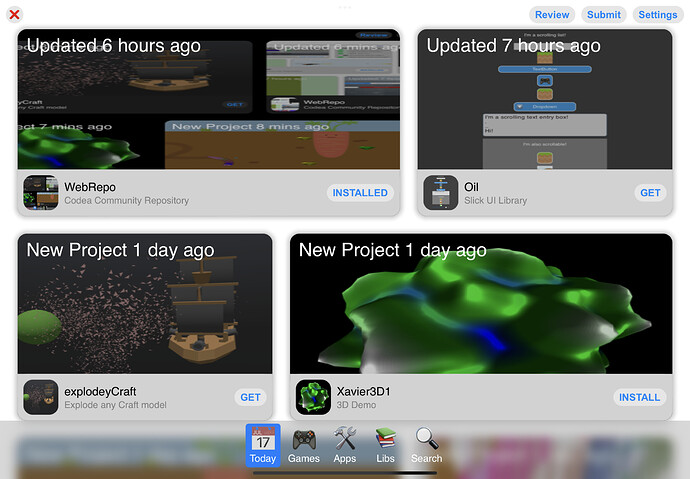 Please let me know of any feature requests or bugs you may find here on the forums.
Submitting a project
To submit a project, fill in the required fields on the Submit New Project screen (these are saved between launches). Once you've filled it all in hit the 'Upload & Submit' button and wait for it to tell you it's done!
Once submitted, your project will not be available until an Admin approves your project. I'll endeavour to get this done within 24 hours but if it takes much longer feel free to leave a comment on the Codea forum.
The only limitations imposed are:
The project must be in a working state.
The project must include an Icon image.
Assets required must be included within the project itself, builtin assets from Codea or downloaded at runtime. No external asset packs please. We are not limited by the forum's 2MB limit so large projects should be fine.
Projects of an illegal, malicious, unethical or inappropriate nature will be ignored.
Cheers,
Steppers
Outdated Post

Hi all,

As many of you will know by now, I've been working on the Codea Community Repository and its associated project WebRepo which allows users to browse and download projects directly from the community repository.

I'm pleased to announce that WebRepo 2.0 has now been released!

The WebRepo project allows users to browse projects stored on the community repository, download, update and launch them directly from the WebRepo project itself.

All projects downloaded are made available for editing like every other project in Codea. Note that local changes will be erased when the project is updated using WebRepo so I suggest renaming it if you plan to make modifications.
The powerful search functionality allows you to search project names, descriptions & authors to find the project you're looking for.
Functions on both iPad & iPhone and will scale with available screen space.

I'm sure there will be many updates to come but for the time being I'd like to focus on filling this as much as we can so get those projects coming in! Old. New. It doesn't matter.

Please add any feature requests or bugs you may find as issues on Github so we can keep track of them. Feel free to comment on this discussion too but it's far easier to track using Github.

Submitting a project

To submit a project, fill in the required fields on the Submit New Project screen (these are saved between launches). Once you've filled it all in hit the 'Upload & Submit' button and wait for it to tell you it's done!

Once submitted, your project will not be available until an Admin approves your project. I'll endeavour to get this done within 24 hours but if it takes much longer feel free to leave a comment on the Codea forum.

The only limitations imposed are:

The project must be in a working state.
The project must include an Icon image.
Assets required must be included within the project itself, builtin assets from Codea or downloaded at runtime. No external asset packs please. We are not limited by the forum's 2MB limit so large projects should be fine.
Projects of an illegal, malicious, unethical or inappropriate nature will be ignored.

Cheers all,

Steppers